Shhh... Did someone say 'Nits'?
Head lice are tiny, wingless parasitic insects and are a common problem, especially for kids. They're contagious, annoying, and sometimes tough to get rid of. Head lice lay eggs (called nits) on hair shafts close to the scalp, where the temperature is perfect for keeping warm until they hatch.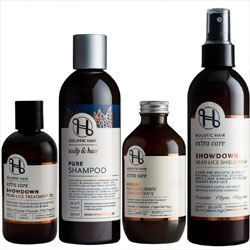 Liam & Gabby offer comfortable and discrete in-studio natural head lice removal treatment solutions! Treatments are painless with iPads and snacks to keep clients entertained.
At Liam & Gabby we offer two treatment processes using Showdown by Holistic Hair. Showdown Head Lice Treatment is a natural treatment to eradicate head lice and which is gentle on the scalp and hair. Formulated with Olive, Lavender, Citronella and Manuka oils. Holistic Hair is a proudly owned New Zealand company and the formula for Showdown was developed by their founder and trichologist, Nigel Russell.
The first treatment is the longest and will generally last 1-2 hours, but this depends on the hair type and level of infestation. The second treatment is shorter in length but crucial to prevent reinfestation. Our team of stylists are thorough in the process combing roots to ends, section by section, removing head lice and even the dead stubborn eggs! It's all about the application.
First treatment
From $95
Second treatment
From $60 (which takes place within 7-10 days)
Liam & Gabby deliver a service and experience you can't beat.
what our clients are saying
My daughter had nits for years and we tried lots of different products to get rid of them but nothing seemed to work. Then my son and I got them – same thing - tried lots of products and nothing worked. I was at the end of my tether and despairing at the thought of never getting rid of these horrible things!
One day I found a leaflet from Liam & Gabby in my letter-box about their chemical-free nit treatment and I thought why not give it a go – we've tried everything else and I was over doing all the treatments myself! Appointments were made for all three of us and we were happy to discover the area where they do treatments can't be seen from the street. Fina, the stylist, was A M A Z I N G – she got every single egg and nit out – it was fascinating to see her work. She made it seem so easy and it didn't hurt despite us having thick hair. Even after one treatment we honestly felt like new people – to see my daughter not scratching or having a terribly sensitive scalp was like a miracle. I only wish I had gone to Liam and Gabby earlier.
It's been seven weeks since the first treatment and no eggs or nits have been found. Every day we comb through the shield spray to help prevent the nits returning – it's so easy.
I would highly recommend seeing Liam and Gabby…and don't wait or try lots of different treatments like we did – make that appointment and take the stress-free option
Advanced bookings are required so email us now to make a booking.
Showdown is part of the Holistic Hair range which we are excited to be stockists of.
For more information on Holistic Hair products check out their website.